Just like with the wedding and adult functions I entertain at, I offer an online planning system you can log into to select the music your child would like to hear at their party.
How we get to the selections made can be interesting. 
Your child's musical tastes will be influenced by many things including radio air-play, TV shows, movies and your own personal tastes (trust me….some of the songs they ask for they shouldn't even know about 😮 )
The best parties are those where the guests themselves are asked to provide a song request with the party invitation. This way, every guests hears a song they've chosen and is more likely to interact with it.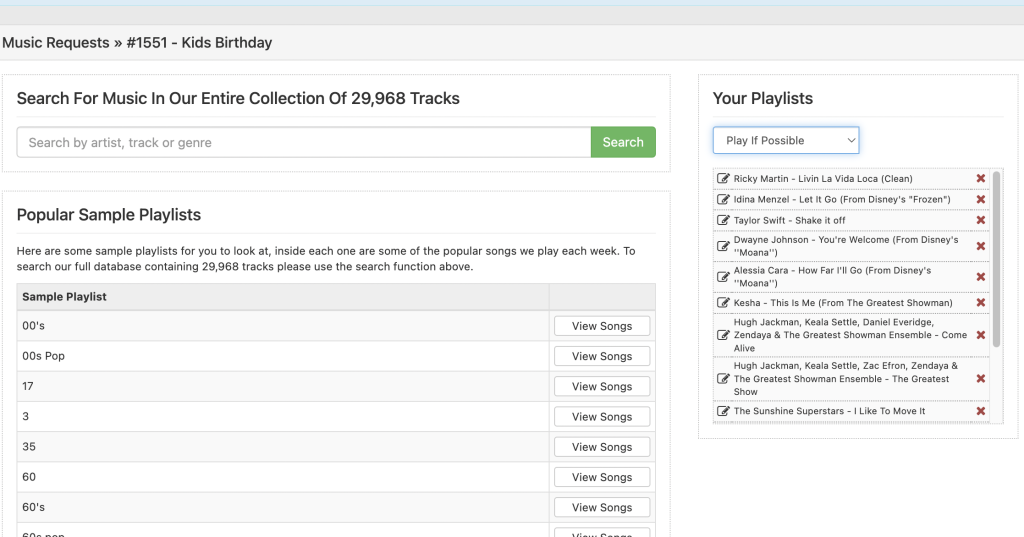 So without further ado....what are OTHERS choosing?
It's very rare for me to select the music for a children's party as most of the songs are requested before the day. The songs listed below are the 20 most popular from the history files on my DJ software from the last 30 children's parties I've worked at (since the easing of Covid restrictions in July 2021)
Tones & I – Dance Monkey
Taylor Swift – Shake It Off
Dwayne Johnson – You're Welcome
Pink Fong – Baby Shark
Mark Ronson ft Bruno Mars – Uptown Funk
Justin Timberlake – Can't Stop The Feeling
Little Mix – Black Magic
Walk The Moon – Shut Up & Dance
PSY – Gangnam Style
Dua Lipa – Levitating
Little Mix – Shout Out To My Ex
Micheal Jackson – Thriller
Reel To Reel – I Like To Move It
Carolina Gaitan – We Don't Talk About Bruno
Shakira – Waka Waka (This Time For Africa)
Elton John & Dua Lipa – Cold Heart
Ed Sheeran – Shivers
Idina Menzel – Let It Go
Carly Rae Jepsen – Call Me Maybe
Katy Perry – Firework
Now, they're just the most popular "non-action-dance" songs requested and there's a definite lockdown-movie-night feel to a lot of the above.



When it comes to the action dances (and yes dear reader, at least one of these is requested at each and every children's party I work at!), here's the top 10

Black Lace – Superman
Black Lace – Agadoo
Black Lace – Conga
Black Lace – Hokey Cokey
Los Del Rio – Macarena
Village People – YMCA
Whigfield – Saturday Night
Steps – 5,6,7,8
DJ Casper – The Cha Cha Slide
Damian – The Time Warp

That's an awful lot of Black Lace 🤢 but if they've asked for it…I'll play it. 
I mentioned that your child's musical preferences are heavily influenced by your own choices.
Here's what you have apparently been subjecting your children to 😂
Wham! – Wake Me Up Before You Go Go
Queen – the entire back catalogue (I actually like Queen so no problem 😉 )
ACDC – Back in Black
John Travolta/Olivia Newton John – The Grease Megamix
The Weather Girls – It's Raining Men
Cliff Richard – Summer Holiday
Bryan Adams – Summer of '69
The Killers – Mr Brightside
Benny Hill – Ernie (really? )
Chubby Checker – Let's Twist Again
Karl Douglas – Kung Foo Fighting
Welcome to the world of the post lockdown children's DJ
Hopefully some inspiration for you there.  As I mentioned at the top of this particular post, all of the tracks listed have been pre-requested for parties and not those that have been chosen by me.
Of course, I'm happy to play whatever music your child and their guests want to hear on the day (so long as it's suitable for young ears of course!)
Am I available for YOUR child's party?
There's only one way to find out and that's to get in touch!
I'm often booked several months in advance so please don't leave it too late as I'd hate to say I'm already booked 🙁